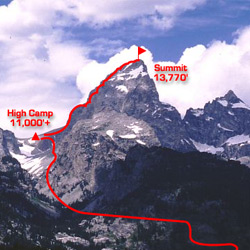 The Grand and the route to its summit.

Come join me for a truly unique, life-changing week in Wyoming's Teton mountain range. This seven-day self-development "expedition" is designed to stretch your known mental and physical limits and, thus, help elevate your life, quite literally. Throughout the week, you will be immersed in the Mental Wings philosophy for living an uncommonly successful and joyous life. The hallmark of this expedition is a two-day ascent of America's most famous mountain, the Grand Teton.
Through a series of classroom seminars and the challenges of hiking and climbing in the Tetons, you will experience the benefits of the many powerful Mental Wings strategies. The seminar time will cover techniques for improving your concentration, controlling your emotions, regulating your energy levels, conquering fears, managing risk, re-engineering yourself, and setting compelling, achievable goals that inspire you. The outdoor sessions will target both your mind and body in ways that prepare you for the ultimate challenge of climbing the 13,700-foot Grand Teton!
Participating in this Expedition will undoubtedly be one of the most profound experiences of your life. The skills gained will enable a quantum leap in self-efficacy in your career, relationships, health, or anything else you set your mind to do. This week of mind-body conditioning will redefine what you feel is possible in your life, thereby empowering you to attain future success and happiness beyond your current comprehension. By Day 7 of this exclusive expedition, you will come to realize that, in your life, no "mountain" is too high, if you use your mental wings!
Click here to view a photo essay of the Grand Teton climb.
Coming soon . . .
---