Eric J. Hörst is an accomplished climber who, over the last 30 years, has ascended cliffs all across the United States and Europe. Driven by his passion for adventure and challenge, he has established over 450 first ascents, primarily on his home cliffs in the Eastern U.S.
A student and teacher of climbing performance, Eric is the nation's leading authority on the subject and he is recognized globally for his innovative strength and mental training techniques. Eric has helped train hundreds of climbers and his training books and concepts have spread around the world to climbers in more than 50 countries. Eric has written five books on climbing performance including the classics Flash Training (1994), How To Climb 5.12 (1997), Training For Climbing (2002), Learning to Climb Indoors (2006), Conditioning for Climbers (2008), and Maximum Climbing (2010). He has written dozens of magazine articles on the subject, appeared on numerous TV broadcasts, and his techniques have been featured in magazines such as Climbing, Rock & Ice, Outside, Men's Health, Fortune Small Business, Muscle Media, Muscle & Fitness, Men's Journal, National Geographic Adventure, among others.
Eric's current project transforms his passion for personal performance to another dimension—the non-climbing, every day world! Taking the mental strategies employed by climbers in the vertical extreme, he has developed Mental Wings: A 7-Step, Life-Elevating Program for Uncommon Success and Happiness., an audio program that might be described as "The Seven Habits of Highly Effective People meets Into Thin Air." Eric is available for seminars, keynote talks, and personal consultations.
Eric is a graduate of Penn State University and, currently, an adjunct faculty and staff member at Millersville University. He resides in Lancaster, Pennsylvania with his wife, Lisa Ann, and sons, Cameron and Jonathan.
Visit Eric's Climbing Performance web site at: www.TrainingForClimbing.com.

I have spent much of the last 30 years hanging by my fingertips on the side of cliffs, moving upward with hundreds of feet of air separating me from the safety of the ground. Though very physical, technical rock climbing places even greater demands on your mental muscle—in order to succeed and, in fact, survive this activity requires extraordinary mental skills. Over the years, I developed a wide-range of powerful mental strategies for performing in the "danger zone" with laser-like focus, bulletproof confidence, acute risk management, and the ability to continue upward in the face of fear. I call these skills my "Mental Wings."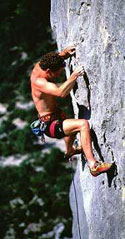 Eric 1,000+ feet up the Verdon Gorge, France.
However, it was not until years later that my biggest breakthrough occurred. One day it dawned on me that the powerful mental skills I used in climbing could be applied to other aspects of my life and work equally well for all people living in the non-climbing world! With this epiphany I began to develop my Mental Wings program as "the cure for the common life."
Mental Wings™ is a unique and highly practical program for accelerating your rate of personal achievement and elevating your quality of life. Born from the profound experiences of the vertical world, the Mental Wings principles and life strategies are immensely effective in the everyday, though equally challenging, horizontal world. In learning to spread your mental wings, you will soar to new levels of personal effectiveness, rise to meet most any challenge, and experience new heights of success and pleasure in your personal and professional life.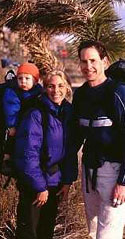 Hörst family outing in Joshua Tree National Park, CA.
Decide today to take a proactive attitude toward managing and directing the change in your life. Differentiate yourself from the mass of people who put off change until "later" or "when things settle down" (of course, things will never settle down unless you make them). If you are to ever live out your dreams and move to a higher level of happiness, health, and security, you must be courageous and release your grip on your current existence—only then can you reach above into the great unknown and discover your true destiny.
Schedule a Mental Wings™ talk or seminar for your organization or consider joining me for the incredible seven-day Mental Wings Expedition.